World's 11 Most Expensive Watches
James Bond author Ian Fleming once said, "A gentleman's choice of timepiece says as much about him as does his Saville Row suit." However, a classic watch is more than just a fashion accessory, it's an asset; so it's no wonder the world's elite are willing to pay top dollar for signature luxury timepieces that are worth more than your house.
Here are some of the world's most expensive wristwatches that are reserved for the fabulously wealthy.
AP Royal Oak Offshore Grande Complication
If you're looking for a timepiece that will outlive you, look no further than the AP Royal Oak Offshore Grande Complication. This $740,000 watch features a perpetual calendar, which means it will still be counting time long after you've passed. In addition to its eternal lifespan, the piece also includes a leap year indicator, a moon phase tracker and other features that will be sure to come in handy when you're dead.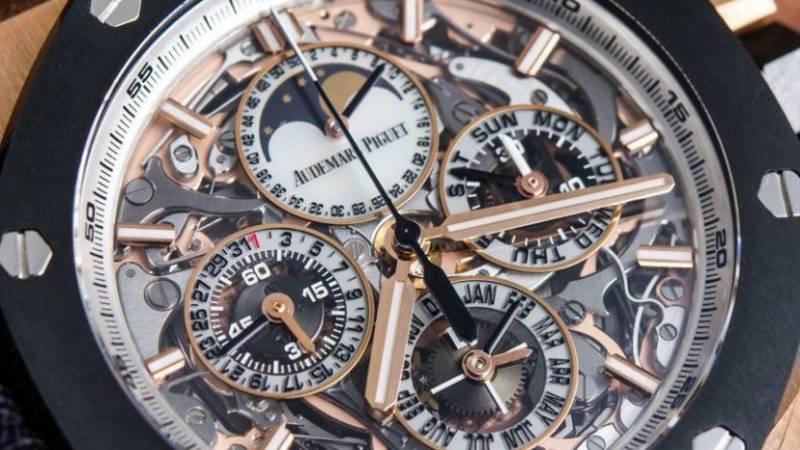 Hublot Classic Fusion Haute Joaillierie
For those who want their timepiece to say, "I have more money than I know what to do with," they created the blinged out Hublot Classic Fusion Haute. A real conversation starter, this watch is bejeweled with more than 1000 baguette diamonds, is water resistant up to 30 meters, has 120 hours of power reserve and comes with a one of a kind expertly engineered silicon case. Only 8 of these watches were ever created, making them a rare find indeed and worthy of the $1 million price tag.
[resp]
Chopard Super Ice Cub
Men aren't the only ones who appreciate a nice wristwatch. The Chopard Super Ice Cube with the diamond encrusted band and watch face was made with ladies in mind. The $1.1 million watch contains 60-karats of cubed diamonds, is water-resistant and features and a scratch resistant surface.